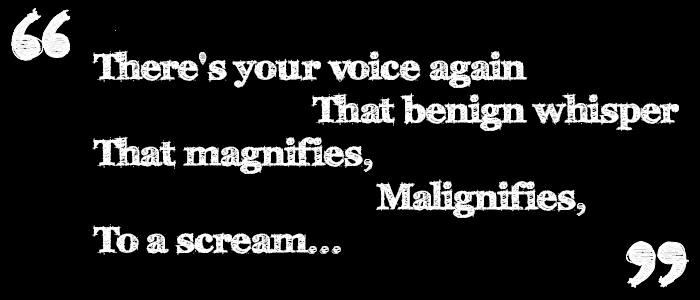 And so, we meet again
Pain: my old friend,
Creeping in steadily
Stealthily
Amidst moments of slumber
To jerk the body awake
With a shudder
A tremble
Flexing your haunch muscle
Such a showoff
Just to remind me
Just to reinstate
Who's boss.
Alright, I'll indulge you;
Let's play.
I hear you; there's your voice again
That benign whisper
That magnifies, malignifies, to a scream.
But this time around
I'm armed to the hilt
Braced with the substances you fear
Tempered with knowledge
Warrior training, preparation
Ready, waiting for you.
With every unwelcome visit
I chalk another lesson
On my playboard
Figuring out all your moves
…And once more,
The chase is on.
We know this all too well
This place is familiar
We've been here before —
This grand long-awaited steeplechase
The kinetic glory, the rush
That stops just short of the finish line.
Oh, old friend
You've aged gracefully;
You don't tire
As easily as I do,
Anymore.
The years have hardened you
Such cruelty;
We were comrades, equals, once;
But now, you don't play fair.
One day,
This game you love to play
One way
Or another
It has to end.
But, old friend,
You cannot yet plant your flag
At this post
Your victory gallop is premature;
You will only claim your prize
When I say so
When I am ready
When I give in.
…And so,
Bring it on!
Your bullets of history,
Your knives of truth;
The demons you meticulously cultivated
While I silenced you
In the past;
Now full grown beasts
That bring me,
Crushingly,
To my knees.
But old friend,
Beware
Because I'm in;
This time for keeps.
Just you and me now
In this grand long-awaited chase.
And I, oh I, am ready
Bridle, blinkers, bit!
This is the moment,
The Big Race
Finally, one of us will dare
To finish
To claim the Cup.
And I, oh I, am ready!
All or nothing;
Game face on!
…Old friend,
You don't tire as easily
As I do,
Anymore.
But alright.
I'll indulge you.
Let's play.